Fortnite Online PC Game
Fortnite Online PC Game : Fortnite Battle Royale is the FREE 100-player PvP mode in Fortnite. One giant map. A battle bus. Fortnite building skills and destructible environments combined with intense PvP combat. The last one standing wins.
Top 3 Ways to Play Fortnite on PC
Fortnite is one of the most popular online video games as of the moment. Just like the other battle royale games, your goal is to survive as the last man standing among the hundred players on an island. However, if you want play this on your PC, it is necessary to have a PC with good specifications. And for you to play it well, your PC must have Nvidia GTX or better and with 8 GB RAM as its recommended specs. Fortunately, this is available in platforms like Nintendo Switch, iOS devices, and on Android devices. Thus, if you're interested in playing this game on a larger screen but your PC can't afford it, this article will be your guide, so you can play Fortnite on PC.
How to Play Fortnite on the Computer
ApowerMirror
The first way you can play phone games on PC is by using ApowerMirror. This versatile mirroring application lets you play your favorite mobile game, such as PUBG mobile, Rules of Survival, Knives Out, League of Legends, as well as Fortnite, on your computer. With this, you can mirror whatever is happening on your phone without lag and hassle. Aside from that, this app offers you the option to record your screen, take screenshots of your game, and even use its gamekeyboard feature to play with your mouse and keyboard. Below are the steps you may follow to learn how to play Fortnite on PC.
To begin, go to the official site of ApowerMirror and then download the app on your PC. Meanwhile, on your Android, go to Google Play Store, search for ApowerMirror, then install.
After that, launch both applications on your PC and on your phone and then connect them through a USB cable.
On your Android, simply enable USB debugging. Afterwards, tap "Start Now", and your mobile device will mirror to your computer screen.
Finally, open the Fortnite app on your Android and you're ready to play Fortnite on the computer.
AndY
AndY is an Android emulator you can use to play Fortnite on a larger screen. With this app, you can install any Android app you want, including Facebook, Instagram, WhatsApp and more. Also, unlike other emulators, AndY lets you use your Android as a controller when you play, and it even supports PlayStation and Xbox. If you want to use this tool, you can follow these guidelines:
To get the app, go to its official page, then download and install it on your PC. After that, simply run the program.
From the main interface of the application, go to Google Play Store and sign in with your Google account.
After that, type Fortnite in the search bar and then install it. Once the installation is complete, just launch Fortnite and you will be able to play it on your PC.
BlueStacks
The last application on the list is BlueStacks. This is an Android emulator that allows you to install your favorite Android applications on your PC, including Fortnite. In addition, you can use this program in both Windows and Mac OS. BlueStacks also has a clear and simple interface, which enables you to organize applications easily. Aside from that, there are other features you may use with this app player. Therefore, if you are interested in this program, you can follow the steps listed below:
First, visit the website of BlueStacks and then download it. After that, install it on your PC.
Afterwards, sign in with your Google account, so you can access the Google Play applications.
Then, go to "App Center" and from there, search for Fortnite and install it. When the installation is complete, you can enjoy playing Fortnite on a larger screen.
Conclusion
Those are the ways on how to play Fortnite on the computer if your PC is not good enough or does not have the specifications recommended for this game. With the help of these tools, you can play or access any mobile application on a bigger screen. However, if you prefer to play with no lag, ApowerMirror is the best option for you.
How Epic Games keeps Fortnite online for millions of players
Fortnite has hit 125 million players – peaking at 3.2 million concurrent gamers. Keeping it online requires some serious web infrastructure
Fortnite is an online phenomenon. The battle royale game, where 100 players are dropped into an arena and the last person standing wins, has amassed 125 million players within 12 months of its launch. At any one time, millions people are playing the game.
"Fortnite has grown more than 100 times in the last nine months alone," Chris Dyl, director of platform from the title's publisher Epic Games said at the end of July. That takes some serious web infrastructure chops. Downtime, whether caused by surges in player numbers or attempted cyberattacks, can drive players away and stop them from making in-game purchases.
Fortnite is created using Epic's development engine Unreal, which allows creators to design and code games without starting from nothing. Battle royale competitor PlayerUnknown's Battlegrounds (PUBG) also uses the Unreal engine as do hundreds of other titles.
On February 3, Fortnite had its most successful weekend. According to Epic – which hasn't released more up-to-date figures – there were 3.2 million players online at the same time. The figure ballooned from a peak of 60,000 users which Epic recorded after the July 2017 launch.
"If you have a viral hit on day two you could have ten, one hundred, or a million times more players than you had on day one," says Ian Massingham, a technical evangelist at Amazon Web Services (AWS). Since launch, Fortnite has been reliant on AWS for staying online. The Amazon division – one of the company's most profitable – is responsible for hosting websites such as Netflix, Reddit and Airbnb.
Each month Epic deals with two petabytes of data (223,000 DVDs, if the disks are 4.7GB each). This requires a huge amount of server space. Massingham says Fortnite uses AWS' elasticity to provide more capacity when users spike in numbers. These spikes can be huge. "We have almost ten times difference in games server workloads between high peak and low peak in any particular region," Epic's Dyl said in July.
Around the world, AWS has a series of availability zones that are designed to deliver web services that don't lag. And if one zone fails, another can step in. Fortnite is run on servers in 24 of the 55 availability zones that exist.
But this doesn't mean that things don't go wrong. There were six outages of the game when it hit 3.4 million users in February. At the time Epic said it had hit some technical limits in one of the regions it operates and the game went down. Also, if Amazon's systems suffer from problems Fortnite and other services relying on its tech go down. The major 2016 Distributed Denial of Service (DDoS) cyberattack – launched by Minecraft-playing college students running a scam – impacted AWS' systems.
The business secrets behind Fortnite's runaway success
Gaming
The business secrets behind Fortnite's runaway success
In the past, games such as Far Cry 5 and Ghost Recon Wildlands have been the victims of DDoS attacks that have stopped players from getting online. One alleged hacker took to Twitter in April 2018 to claim they had conducted a DDoS attack against Fortnite'sservers but this was never confirmed and the Twitter account no longer exists.
"DDoS attacks pose a massive risk to online games," says Ben Albon, the lead operations engineer at British games developer Jagex, which creates Runescape. "MMORPGs are much less resilient to outages than other online services like websites and video streaming. When you and your friends are in the middle of a boss fight that you spent hours preparing for, then 30 seconds of disruption can easily be enough to ruin your entire evening."
There are also issues of lags in game footage that have to be contended with. Lag and latency impacts on all massive online multiplayer games. Massingham adds that in recent years the types of games people play have become more standardised. Previously, the US, Europe and Asia would have had vastly different tastes in games but now they are more global. Jo Twist, the CEO of Ukie, the UK's games trade body says it is critical to gaming's success that data is able to freely flow across international borders and the broadband structure is in place to allow people to play at high speeds.
This is more complicated when 100 players are all attempting to move around, walk, shoot and die in the same game zone. "In delivering those multiplayer elements I need infrastructure running in the cloud that enables me to share to state with other players," Massingham says. "This means that when I shoot my gun in the game you can see a zombine fall down in your copy of the client."
These are the best games of 2018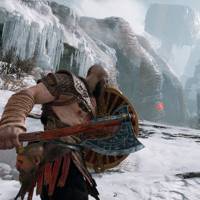 Gaming
These are the best games of 2018
YouTuber Battle(non)sense has performed technical tests comparing PUBG and Fortnite. He says Fortnite shows players technical details about their connections whereas its competitor doesn't. In one update to PUBG its creators changed settings so people play with others who have similar ping rates. Put simply: if your internet connection is slow you'll be playing against other people with weaker connections. Battle(non)sense also says the servers for both the battle royal games send out more information when there are less than 50 players left from the starting 100.
More than a year after its initial release, Epic Games has just launched Fortnite on Android. The beta was exclusively made available to Samsung customers but will soon expand to handsets from other manufacturers. This means the massively popular game will have the chance to find a new audience. And when it does, keeping it online will get harder.
Fortnite Season 8
Fortnite Season 8 will be wet. This is about all we actually know, but if the hints buried in previous Fortnite battle passes are any indication, the wetness will extend to more than a simple spring thaw. Epic is getting good at not-so-subtly hinting where future Fortnite seasons are headed, and unless we're all being tricked, Season 8 will have a lot to do with water.
The hints have been trickling in for a while now, and with Season 7 at the halfway point, in-game events are likely to start hinting at the future of Fortnite soon. Read on for our theories on what to expect from Fortnite Season 8.
When does Fortnite Season 8 start?
As reflected in the weekly challenge timers, Week 10 of Fortnite Season 7 will begin on February 7. If the next season begins one week later, that places the start of Fortnite Season 8 around February 14, or Valentine's Day. Don't tell your date.
Epic has been known to increase seasons by weeks or days as necessary, so don't count on the 14th as a sure thing.
What map changes will arrive with Fortnite Season 8?
All signs point to some wet new areas.
With spring, I'd wager we see a deep thaw run through the icy parts of the map. Greasy Grove is currently submerged in a frozen lake, and you can see the buildings, chests, and weapons just beneath the surface. Maybe we'll be swimming there soon.
A quick look at the Season 7 battle pass hints at a wet spring, too. A snowman spray melts in agony, an octopus icon becomes available at tier 84, a blazing sun at 62, and previously scuba-diver skins could be the earliest hints at an underwater environment. More blatantly, this idiot fish skin is the most blatant hint at future underwater theming.
Fortnite's snowy environment was teased for months through skins and battle pass rewards, so it's not a long shot to think Epic might be doing the same for an underwater area.
What new skins will be in the Fortnite Season 8 battle pass?
Hard to say at this time. Expect a mix of those that fit in with the season theme: aquatic creatures and people, as well as some that evoke the spring season. Skins also tend to hint at future changes, both within the season and beyond. It's too early to even guess what those might be. I just hope we get more idiot fish skins.
Passionate about passive income generation , willing to share my knowledge with other people so that we can grow together , lets learn something new everyday.